JAMES BROWN BackStage
James Brown "The Godfather of Soul" came backstage to pose with Sycuan tribal members and VIP guests — lower picture James Brown visits the Sycuan Indian bingo hall. James Brown autographed a picture for the photographer (composited into the lower James Brown pictures) so he can say this is James Brown's authentic signature.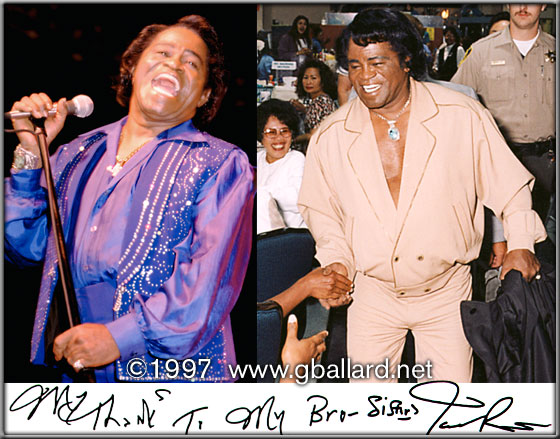 Michael Michaels
Sycuan Councilman Mike Pettiford — aka Michael Michaels — posed for professional backstage meet and greet celebrity studio photos after a great James Brown concert on the Sycuan Indian Reservation concert series, 1997.

Michael Michaels is a natural-born comedian in front of the camera....
James Brown photographs by GARY BALLARD, free-lance celebrity photographer, San Diego.