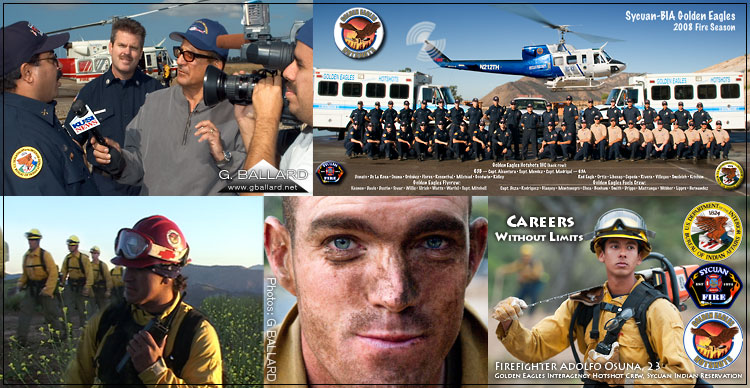 PROFESSIONAL MULTIMEDIA Producer (a huge project blog, stills, video, DVD).
MULTIMEDIA PHOTOJOURNALIST
For the past several years, San Diego-based professional photographer and feature writer GARY G. BALLARD has been working on a series of multimedia documentaries in northern Baja California, Mexico, documenting the North American indigenous peoples of the greater San Diego area, their tribal lifestyles, living conditions, arts and crafts using state-of-the-art digital still and video cameras.


US-MEXICO BORDER AREA NATIVE AMERICAN TRIBAL DOCUMENTARIES stills, video DVDs, Web publishing.


THE TOTAL PACKAGE:

"Ninety-nine percent of what you see on my websites is my original creative content, and 100 percent is the direct result of my personal production work to present it."
-Gary G. Ballard
EXPERT: Photoshop® | OS-X® | Adobe® Work Flows | Graphic Design | Copywriting | Internet | Print, DVD & Web Publishing | Stills & Video | Editing | Final Cut Studio®
SYRACUSE UNIVERSITY
SYRACUSE UNIVERSITY educated, U.S. Navy trained, including cinematography, photojournalist Gary G. Ballard is a seasoned photographer — journalist, cinematographer, blogger, internet publisher — for international press release, breaking and feature news, corporate communications, and editorial/opinion markets.
Photojournalist Ballard is an eight-year military veteran trained as combat photographer, mo-pic and phjo, qualified aircrewman to operate inside navy helicopters and attack jets aircraft flying behind enemy lines. Ballard had top security clearances while serving in the navy and photographed in sensitive areas in a variety of operations around the world.
COMMUNICATIONS PROFESSIONAL
G. BALLARD combines his extensive communications background and digital production experience to produce important, socially-significant work which includes extensive still photography and cinematography presentation through professional graphic design and on-line CREATIVE MULTIMEDIA presentation.
Please click on the Indian cave painting banner AD to see a popular website Gary Ballard founded and built from scratch — the area of his life's work.
MULTI-MEDIA PHOTOJOURNALIST FOR HIRE
G. BALLARD freelance photojournalist provides professionally digital and film still photography and DV DVCAM digital video, digital sound production to finished DVD, HTML and large format display prints.


"If you have a story worth telling, and are looking for an experienced team player, please give me a call."
-Gary G. Ballard
Experienced photojournalist as a still and motion picture cameraman has current passport, will travel....