NATIVE AMERICAN REAL ESTATE AGENTS San Diego
San Diego Native American Indian real estate agents Kalim Smith, Muskogee-Creek, and Samuel Q. Brown, Kumeyaay of Viejas Indian Reservation, Alpine, CA, hired G. BALLARD to produce this full-page AD for a magazine.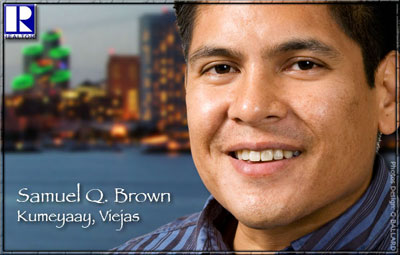 The high-resolution, 500MB, 16-bit scan of the 2004 San Diego city skyline, with a new Petco Park, was a Studio stock photograph. The two corporate mug shots were taken in studio for this ad. The real estate advertisment reads:
NDN Real Estate agents are your tribal investment specialists for Southern California real estate purchases and sales. We are dedicated to working with Tribal Members and Tribal Governments to expand Native land holdings. We provide personalized professional services tailored to your real estate needs and investment goals.
The two Indian "NDN" agents are Native American business partners specializing in buying, selling, planning and financing loans for real estate related transactions.
The experienced real estate agents offer free loan approval, free loan consultation, free market analysis, plus online MLS listings, online newsletter and online investment resources.
Photos, Design, Digital Production by Gary G. Ballard, San Diego.