SYCUAN HISTORICAL PHOTOGRAPHS
This beautiful Sycuan historical photograph was featured in Mike Connolly's Sycuan book — "Sycuan. Our People. Our Culture." Our History." — a beautiful picture album and history presentation he wrote about the Sycuan Band of Kumeyaay Nation tribal history in San Diego County.
Pictured is the Sycuan ceremonial staff, and a tribal prayer fan — both Native American ceremonial objects are adorned with eagle feathers. Pictured are Kumeyaay tribal members Anna Sandoval and Danny Tucker.
ORIGINAL FILM NEGATIVE scanned at 205 Megabytes, 6,848 x 5,238 pixels
Gary Ballard shot this professional photograph on the Sycuan Indian Reservation in 1992 with studio lighting and medium-format negative film. He later scanned the original film negative on a "drum-quality" dedicated Nikon 8000 ED film scanner in high-resolution 16-bit Adobe RGB at 205 megabytes at 6,848x5,238 pixels.
From 1989 to when the famous San Diego photographer switched to Nikon SLR digital cameras in 2002, Gary Ballard shot over 30,000 film negatives on Mamiya 6x4.5 and 6x7 format cameras for his Sycuan tribal archives.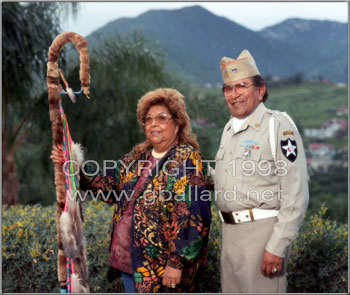 HIGH RESOULTION SYCUAN scan from color negative film, another beautiful high-rez film scan from the G. BALLARD Sycuan historical archives featuring Anna Prieto-Sandoval and her Kumeyaay brother, George.
Please see my PROFESSIONAL PHOTOSHOT PORTFOLIO for more professional tribal scans.
Photo by G. Ballard, San Diego.