SAN DIEGO BASED MULTIMEDIA PHOTOJOURNALIST
WELCOME GOOD PEOPLE OF THE WORLD to the independent creative multimedia design studio of Gary Ballard, a top commercial digital imaging professional photographer-journalist multimedia producer in San Diego County famous for advertising as a website copywriter and commercial graphic designer. Gary G. BALLARD Studio provides specialized personal boutique creative services to international business and corporate clients, including service to the greater Southern California area and West Coast of United States of America, USA.
With more than 20 years daily work experience directing people for photo shoots in the studio and on location — and well over 5,000 hours designing and self-publishing advanced electronic media for print, DVD, Blu-ray and Internet — Gary Ballard has worked closely with top industry professionals, talented in-house designers and award winning corporate creative teams, including still photography, journalism and motion-picture production assignments around the world.


I've got a lot of tricks in my tool box with over 20 years photography, writing and design — if you need a consummate professional with a proven track record, please check out my portfolios, then hire me.
-Gary G. Ballard

EXPERT CREATIVE ENGINEER Utilizing: Stills | Video SD HDV | Editing | Graphic Design | DVD Authoring: Blu-ray AVCHD HDV SD | Websites | Printing | PDF | Photoshop | InDesign | SEO | OS-X | Color Management | Savvy Work Flows | Consulting | Training


Gary Ballard specializes in people photography — the creation, digital optimization and presentation of interesting, top-quality original creative content.
Here is a small thumbnail gallery of the G. BALLARD successful creative style that will lead you to bigger things:
MY BEST CALIFORNIA DOCUMENTARIES


SAN DIEGO NATIVE AMERICAN INDIAN DOCUMENTARIES Lifestyle-Art.
MY TOP PROFESSIONAL PHOTOJOURNALISM PORTFOLIOS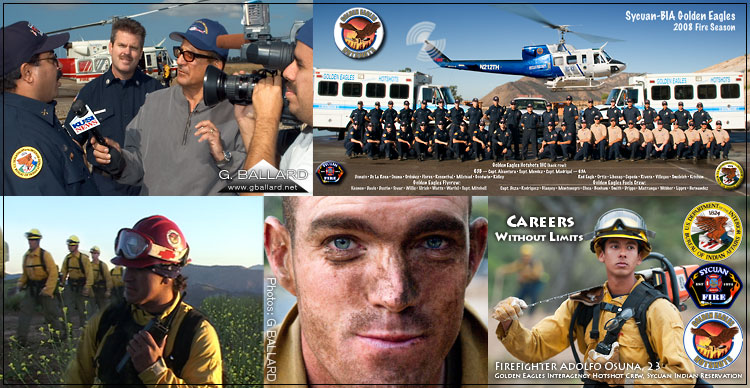 SAN DIEGO CALIF LOS ANGELES MULTIMEDIA Top Photojournalists.
SAN DIEGO CORPORATE PHOTOGRAPHER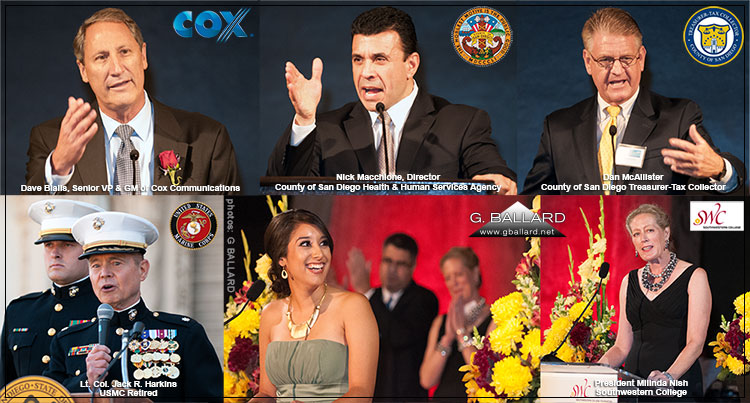 SAN DIEGO COMMUNITY LEADERS, speakers.
CORPORATE EXECUTIVE PORTRAITURE


SAN DIEGO EXECUTIVE Portraiture Gallery.
SAN DIEGO CONVENTIONS, AWARD PHOTOGRAPHY


COMMERCIAL Photography San Diego Conventions Events, Awards, Live Web Blogging.
MOVIE VIDEO PRODUCTION: DVD, SD, HDV, HTML


BUDGET ORIENTED DVD Authoring, Video Production Services, Portfolios, REELS.
SAN DIEGO ARTISTS INDIAN ARTS & CRAFTS


SAN DIEGO ARTISTS Southern California American Indian Art Directory.
MADE IN AMERICA WEBSITE BRANDING


BEST SAN DIEGO WEBSITES Branding Logos Design Services and Hosting Packages.


INFORMATION ABOUT MY PEOPLE SPECIALTY:

For me, working with people is much more interesting and challenging than the still-life pictures that most photographers gravitate towards.

And with me, you always get my personal best efforts at fair prices.
-Gary G. Ballard
Gary Ballard's broad photographic specialties include:
People Pictures for Advertising, Editorial, Marketing, Catalog, Brochure
Active Lifestyle Photography Photographer
Environmental Portraiture
Portrait Artist, Corporate Mug Shots and Personal Pictures
Photojournalism, Documentaries, ENG, News Photos, Photojournalist
Exclusive Private Events, Back Stage Celebrity Photographer
Model and Actor Professional Portfolios
Director of Photography, Photo Editor Editing
Creative Engineer
Digital Colorist
Archivist
ADOBE® PHOTOSHOP® EXPERT SERVICES
As a top Photoshop production artist, G. BALLARD offers extensive free PHOTOSHOP TUTORIALS and downloads, including specialized white papers on professional desktop publishing color management and print and desktop publishing work flows:
Work flows exposing the Heart and Soul of Digital Color
Photoshop, Epson, ColorSync "Print Matches Monitor" Workflows
Large-Format Ink-jet Digital Photo Print Printing Specialist
Color Management System CMS Theory, White Papers Articles
Extensive Mac and Photoshop Troubleshooting Guides Resources
Apple Macintosh DEADLINE-Driven Desktop Publishing Workflows
On-Site Training Seminars Consulting

Links to new Adobe Photoshop CS5 official Adobe tutorials, online Adobe training movies.
In addition to specialized high-quality DIGITAL BOUTIQUE photography, multimedia storytelling, graphic design and creative copywriting services, the San Diego art director creative engineer and multimedia producer is available for hire as a creative and production consultant specializing in on-location and creative in-house digital presentation services.
Adobe and Photoshop are either registered trademarks or trademarks of Adobe Systems Incorporated in the United States and/or other countries.
EPSON PRINTING SERVICES IN SAN DIEGO
G. BALLARD Studio offers the finest specialized professional in-house commercial ink-jet printing services in San Diego.
Epson Stylus Pro 7880 color inkjet printer (newer than 7600 and 7800)
Epson UltraChrome K3 eight-color archival inks
PK Photo Black ink usually loaded
Professional photographic-quality archival prints up to 24 inches by banner sizes poster printing for fine art, commercial and trade display, portfolios, including picture framing.
Archival heat mounting services using Seal Masterpiece 210M-X heat press.
Gary Ballard is a well-known expert in color-managed Epson printing work flows, and does all the printing himself in house to the highest personal and commercial standards.
The G. BALLARD design studio is setup and hardware calibrated to first accurately PROOF and evaluate the color on high-end 30" Apple and NEC LCD state-of-the-art monitors, then send the project to Ballard Epson printers, or out to off-set CMYK printers to four-color offset printing presses.
Whether the job calls for second opinions on color proofing or color correcting digital color for desktop publishing, large format ink-jet printing or preproduction pre-press proofing, the Ballard photography design studio can help and train clients to get predictable color. Gary Ballard also helps creative designers setup color-managed Adobe® workflows, and troubleshoot color problems on the Internet and in Epson printing work flows.
WEBSITE DESIGN, GRAPHIC ARTIST
Affordable web design and multimedia journalism featuring professional graphics and design, video production, and intuitive user interface for the Web.
Extensive WEB DESIGN PORTFOLIOS on the internet, specializing in:
Professional Graphic Designer, Publisher, Digital Publishing
Webmaster, Domain Registration to Published Site, E-mail Setup
Web Designer
Blog Master, BlogMaster
Multi-Media Journalism
Custom Web Site Design
Professional Custom Graphic Design
Unique Custom Logos, Logo Designer
Company Corporate Logos Design
Company Branding
Web Site Branding Strategies
Internet Marketing
Corporate Branding
Internet Branding Strategy
Project Data Backup, Digital Archiving Services
Search Engine Optimization Specialist Consultant
COPYWRITER SEO COPYWRITING
G. Ballard is a Syracuse University educated photojournalist who received extensive daily writing experience in the U.S. Navy under strict deadline pressure while working with highly-motivated professionals, talented team players.
Specialized professional writer for the internet, including:
*SEO Search Engine Copywriting, SEO Copy
Website Copywriting, Web Page Copy
Advertising Copywriter, AD Copy

*Search engine results based on research, focused approach.
Page ranking results demonstrated on request.
SAN DIEGO DIGITAL VIDEO PRODUCTION
Affordable, budget-orientated DIGITAL VIDEO PRODUCTION SERVICES to DVD in San Diego, Southern California, West Coast, including:
Natural-Born Cut Cameraman
Script Writer, Final Draft AV
Digital Video Editor and Editing, Final Cut Pro
Sony DVCAM, MiniDV, HDV Digital Video formats
Sennheiser Wireless and Wired Microphones
Experienced Interviewer, Photojournalist

FINAL CUT STUDIO 3 Mac OS-X workstations
Final Cut Pro 6
DVD Studio Pro
Soundtrack Pro
Compressor
LiveType
Motion
Cinema Tools
DV, SD, HD, High Definition Video Editing
AVCHD to DVD & full 1080p Blu-Ray High Definition Video to BD
Finished video movie and film production services to:
Video and Movie DVD CD Blu-Ray
QuickTime .mov
Two-pass VBR MPEG-2 encoding
Video transfers to video iPods, iPhones, iPads in MPEG-4 .m4v, .mov
Internet Compression for Internet Streaming, .html ready
Project Data Backup, Archiving Services
SERVING GREATER SOUTHERN CALIFORNIA AREA
San Diego County down town Gas Lamp, La Jolla, Rancho Santa Fe, Del Mar, El Cajon, La Mesa, Alpine, Lakeside, Santee, Spring Valley, Vista, Julian, Jamul, Encinitas, Carmel, Chula Vista, National City, Bonita, Imperial Beach, Ocean Beach, Lemon Grove, San Ysidro, Tecate, Tijuana, Baja California, Los Angeles, Hollywood, Imperial County, Orange County, Riverside, Imperial Valley, Colorado River areas. In Baja California, Mexico: Mexicali, Tijuana, Tecate, Ensenada, Rosarito, San Jose de la Zorra, Juntas de Neji, San Antonio Necua, Santa Catarina and La Huerta.
Gary Ballard was unable to buy the web web domains: www.gballard.com gballard.com, www.gballard.info gballard.info, www.gballard.org gballard.org, www.gballard.biz gballard.biz. But www.gballard.net is the official site of Gary Ballard and is not affiliated with Gary Ballard boxer boxing, Gary Ballard actor acting, or Gary Ballard ministry ministries garyballard.com www.garyballard.com

Adobe® Photoshop® and Apple® Macintosh® OS-X® are registered trademarks of Apple Computers, Inc., and Adobe Systems, Inc. G. Ballard has no affiliation with these companies.