G's lay rants about basic theories behind color management:
Monitor Profile < Source Profile > Destination Profile
Assuming you have your MONITOR PROPERLY CALIBRATED, ruled out known HARDWARE AND BUG ISSUES, spent some time reading about COLOR MANAGEMENT THEORY, observed COLOR PROFILES IN ACTION, practiced WORKING WITH ICC PROFILES, have a GOOD REFERENCE IMAGE and GOOD PRINT WORK FLOW established, performed SYSTEM MAINTENANCE and ran all updates — you shouldn't be having any wrong color problems that can't be quickly resolved by looking at the COLOR MANAGEMENT CHAIN.
DO YOU EVER CONVERT COLORS INSIDE OF ACROBAT PRO?
Have you ever looked into what is actually happening? I did and was shocked by an apparent bug with Photoshop PDF: Convert Colors ignores embedded ICC profiles, Assumes Acrobat's Working Space profile, and then Converts to its "Conversion Profile" (Destination profile) — my Adobe Acrobat color tutorial covers how Acrobat reacts to Tagged and Untagged images for MONITOR PROOFING, and performing proper "Convert Colors" procedures in Acrobat Pro...
COLOR MANAGEMENT Basic theory & terminology behind Photoshop color management.
ASSIGN Profile Versus CONVERT to Profile Learn how Photoshop deals with embedded profiles and color spaces.
TURN COLOR MANAGEMENT ON & Honor My Embedded Profile, Please!
COLOR ONLY LOOKS BAD IN PHOTOSHOP Troubleshoot , evaluate, fix bad monitor profiles.
sRGB IS THE CORRECT PROFILE FOR THE WEB Here's the PROOF!
SAVE FOR WEB COLOR SHIFTS Here's why color-brightness changes-shifts in Fireworks, Flash, ImageReady, Lightroom, Aperture, Microsoft Internet Explorer, Firefox, Safari.
PS13 CS6 PRINTING TUTORIAL & Troubleshooting Guide Using Epson professional "Photoshop Manages Colors" & "Color Mode: Off (No Color Management)" work flow, formally known as No Color Adjustment"
PS12 CS5.5 PRINTING TUTORIAL & Troubleshooting Guide Using Epson professional "Photoshop Manages Colors" & "Color Mode: Off (No Color Management)" work flow.
WEB BROWSER COLOR MANAGEMENT TUTORIAL SEE ICC PROFILES IN ACTION: SAFARI 5 for Windows 8 7 XP Windows Vista Professional (the first color-managed browser for Windows PC).
FIREFOX HOW TO TEST & ENABLE "FULL COLOR MANAGEMENT" Value 1 in Firefox-Mozilla about:config gfx.color_management.mode Value1.
ADOBE CAMERA RAW Workflow, FAQ, Supported cameras, download free Nikon .NEF files.
HOW TO HARDWARE-CALIBRATE MONITORS Tips & techniques for 'accurate' proofing in Photoshop.
WIDE-GAMUT LCD MONITORS EIZO ColorEdge, NEC, DELL UltraSharp broswer TEST PAGE for Mac OS X intense red saturation problems with untagged sRGB. If you are thinking about buying one of these high-gamut so-called Adobe RGB monitors on a Mac or PC, be forewarned your unmanaged system, application and Web browser color will turn cartoonish...great for Photoshop, not so good for anything else.
APPLE OS-X BASIC TROUBLESHOOTING & SYSTEM MAINTENANCE TIPS Create Spare User, Rule Out User Preferences, Defrag, Back Up, Clone Boot Hard Drive...
TROUBLESHOOT PHOTOSHOP How to de-activate, un-install, purge, re-install Photoshop, reset its user Preferences, test in a New User account, and a lot more...
PHOTOSHOP TWAIN PLUG-IN TROUBLESHOOTING Why can't I scan in Photoshop anymore? Why do professionals advise me to scan directly in the scanning software?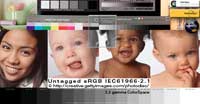 DOWNLOAD PDI HIGH RESOLUTION REFERENCE IMAGES — now with ProPhoto & Whacked RGB calibration targets!
THE COLOR MANAGEMENT CHAIN Photoshop Epson ColorSync.
16–BIT COLOR a Photoshop Scanning WorkFlow.
ADJUSTMENT LAYERS Work Flow.
Resolution & Sharpening for inkjets Epson, HP professional workflows.
APPLE SWITCHED TO 2.2 DEFAULT MONITOR GAMMA in 10.6 Snow Leopard — and System default space to sRGB in 10.7 Lion.
COLORSYNC: A Mere Color Management System What is ColorSync?
Recipes for Disaster: "COLOR MANAGEMENT OFF"—"Emulate Photoshop 4"
ColorSync Workflow for Photoshop (Lion, Jaguar, Panther, Tiger, Snow Leopard)
Adobe Photoshop Help Program Errors CS2 Tiger 10.4x:
ScratchDisk RAID 0