STILL PHOTOGRAPHY — Equipment (see Portfolios for finished work)



RETOUCHING • RESTORATION • ENHANCEMENT — Photoshop® Production Artist



CREATIVE, DESIGN, COPYWRITER, PRODUCTION — Advertising, Branding Savvy



SCANNING — Equipment • 16–Bit WorkFlows



COLOR CORRECTION — Hardware Calibrated • ICC Savvy • Commercial Standards



ARCHIVAL FINE–ART PRINTING — Ink Jet • Contract Proofs • Traditional Photographic



DIGITAL ARCHIVING — CD • DVD Data • DVD Movie



FINISHING SERVICES — Heat Mount & Laminate • Matte & Frame • Canvas Mount



INTERNET SERVICES — Web Site Design • Webmaster • Editor • Video Compression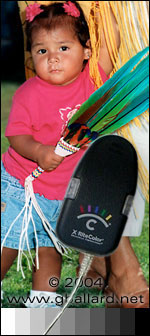 Click on photo to roll over pre–calibrated simulation.
PRICING — My prices are competitive with commercial rates in the San Diego area, however, the quality of my work is better, if not as good, than top commercial houses because I do the work personally (not hand it off to junior employees).

My price for piecework is not the same if the work is part of a larger project and all work is custom, therefore, I do not publish prices on the internet. Please contact me directly to discuss your needs and I will be glad to provide a written Estimate or Quote on agreed Terms.

I have 20–years experience in photography, writing and design with an educational background from Syracuse University S.I. Newhouse School of Public Communication, and am highly trained in cinematography and photojournalism through the U.S. Navy. My digital prowess — my success in porting my craft over to the digital stage — stands testament to the pages, content and quality of this, my first attempt at webmastering. I did all the creative & production work here on www.gballard.net — everything!