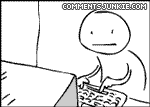 When You Can't See Your DEADLINE
— For the Blood in Your Eyes —
Then You Will Understand...

G. BALLARD'S BEST OS-X
TIPS & TROUBLESHOOTING GUIDE
(averages 20,000 page Views a month)
Here are two outstanding Apple articles about the Mac:
Mac 101 Getting Started with the Mac
Whether you want to learn how to get around your Mac desktop
(or find out what a de

is, for that matter)
figure out how to connect your printer, iPod, digital camera, or other device
discover email and the Internet
learn how to do various tasks
learn how to use the software that came with your Mac
or even find out what to do when things don't go as planned
we have the answers.
Switch 101 Migrate to the Mac
Welcome to the Mac family!
If you're a PC user who has just switched to the Mac and
want to find out how to adapt your old working habits to the Mac OS
you've come to the right place. Welcome to Switch 101:
The former PC user's guide to getting the most out of your Mac.
My Best OSX Links:
www.thexlab.com/ Dr. Smoke


www.gballard.net/ Spare User, Maintenance, TroubleShooting
www.everymac.com/resources/links/ Tons of Links