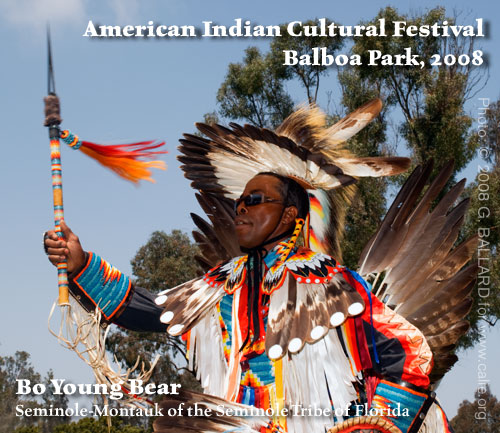 BALBOA PARK POWWOW San Diego Pictures
FOR IMMEDIATE RELEASE
BALBOA PARK, SAN DIEGO MAY 9, 2009 — Hello, I arrived at the American Indian Cultural Festival in the beautiful Southern California city park in my usual professional self prepared to produce some great pow-wow pictures for my world news blogs.
But unfortunately, there was a misunderstanding over who I was working for and the arena director prevented me from taking pictures from my normal areas as a working journalist representing national and inter-tribal news organizations.
And while this problem was straightened out after the event as a simple misunderstanding, the result is I didn't take any pictures this year
AMERICAN INDIAN CULTURAL FESTIVAL

The Native American cultural event in Balboa Park, San Diego, is an important annual celebration of inter-tribal cultural BIRD SINGING, pow-wow drum playing, traditional California-style GOURD RATTLE MUSIC, bird dancing, community educational and elder honorings that draw thousands of Native and non-Native visitors to the San Diego park.
This year's highlights included tribal GOURD DANCING by Native American veterans, student honorings, and a special honoring for FAMOUS KUMEYAAY BIRD SINGER LEROY ELLIOTT, Manzanta Indian Reservation.
MOST FAMOUS POW-WOW PICTURES by Gary G. Ballard:
Please fee free to check out my other great professional portfolios about cultural events in San Diego County (just click on the pictures):


CLICK on picture to view 100 new California Indian powwow pictures including many large high-resolution photographs.
Over 100 famous powwow photos of a major Southern California Indian cultural gathering featuring large professional portfolios of California-style Indian bird singing and Yuman bird dancing, tbest pro gallery of pow-wow dancers from across the United States, Canada, northern Baja California, Mexico, includes the Diegueño Kumeyaay Kumiai, Mohave, Quechan, Cocopah Cucapa, Cahuilla, Pai Pai Paipai, Ipai Tipai, Hualapai, Kiliwa, Havasupai, Maricopa, Yavapai, and Luiseño Indians of the southwestern United States of America.


SAN DIEGO OLD TOWN POWWOW 2010 SanDiego Native American professional pictures.


BALBOA PARK 2008 Native American San Diego photos.

VIEJAS POWWOW American Indian photos.